Wellness for all senses –
in the middle of nature
Are you looking for a hotel and spa resort in a holiday resort where only the rustling of the trees interrupts the natural calm? A small wellness hotel with a warm family atmosphere and soothing comfort? Then you are right with us! The most important thing for us in the Waldblick on the Kniebis: To offer the best to each of our guests, regardless of whether they are large or small, and to ensure that they feel completely at home in the Hotel Waldblick.
Look forward to real relaxation in the Black Forest ambience of the Waldblick Hotel on the Kniebis. Surrounded by the deep forests of the Black Forest, all you have to do is switch off. Enjoy the cosiness and wellness of an exquisite hotel and spa resort in order to fall asleep in the fresh healing climate on the 900-meter-high knee in the evening, surrounded by the scent of the Black Forest firs. Wellness in a wonderfully quiet location! Your family Finkbeiner and all employees warmly welcome you!
Fantastic
Schwarzwald-Panorama
You can reach Freudenstadt in no time at all from the Hotel Waldblick Kniebis. Take a seat on Germany's largest market place. Discover individual shops and culture or keep fit on first-class hiking trails that start right in the center of Freudenstadt, just like from the Hotel Waldblick on the Kniebis. Fantastic Black Forest panorama guaranteed!
Our motto –
fine and creative
Let yourself be pampered in our stylish restaurant rooms. Whether for two or a leisurely vacation round – whether at the Black Forest breakfast buffet, at the lunch buffet or at the evening gourmet menu with a rich menu
Salad buffet. Get to know the distinctive atmosphere of our house: the cozy country house charm, the lovingly designed furnishings and the family flair.
In our fireplace room you can switch off in peace, have nice conversations and find relaxation in a book from our library. A selected digestif by the fireplace is a nice end to an eventful day of vacation.
In our restaurant rooms, anniversaries, weddings or banquets are an experience. We take care of every detail. So you are relieved and can concentrate fully on your guests.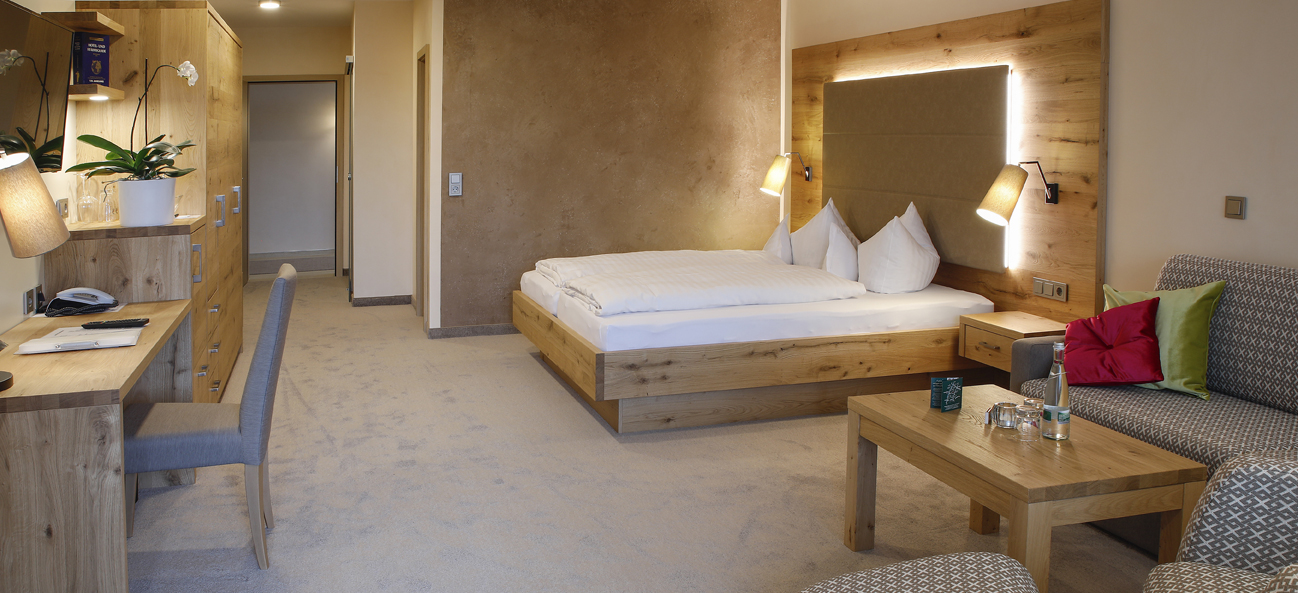 Our room –
soothing comfortt
Let yourself be pampered as a guest with us and look forward to relaxing days in the beautiful Black Forest landscape. Taylor your own stay and decide upon the room that suits you in a calm and relaxing ambience!
Wellness oasis
sauna house Massages cosmetics
Dive in-
and experience pure wellness and relaxation
Waldblick Hotel ****
Inhaber Paul Finkbeiner
Eichelbachstrasse 47
72250 Freudenstadt-Kniebis
Tel.: 0049-(0)7442/834-0 – Fax: 0049-(0)7442/834-15
Homepage: www.waldblick-kniebis.de
Email: info(at)waldblick-kniebis.de
St-Id-Nr.: DE-144207182